My most humble apology to all of you Greggophiles out there(Factorphiles?). Work's been pretty crazy and it takes some time and effort to format these pics.
So lots of people ask me, "Hey Chris, what did you do over the summer?"
Actually no one has ever asked me that but I will answer the question anyway. Here is a summary of my summery adventures (for those of you who didn't get the AMAZING pun in the title).
One thing that was different about this summer was that we had actual birthday parties. Where once upon a time we would just go to a movie and dump gifts on the person in question, now we actually get personalized cakes courtesy of Justin's woman, the very talented, Marie Eve Bernier. I find it funny that in old age are birthday's are regressing to elementary school style parties.
There is the Belle Cake for Masta's Bday.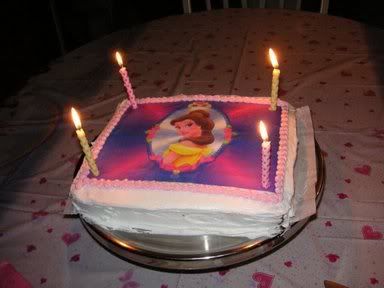 And the Chu Chu Train for Kenny Chu's birthday, right on schedule.
And there is the Wrestling Arena for Jbo.... That is to eat...
I took a trip out to the country to visit the old Thetford Mines. This time Marie Eve(Leblond) and I visit the actual mines and got behind the wheel of some of the monster machines they use to mine all of that sweet, sweet asbestos.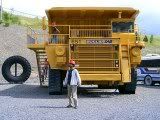 This wheel costs more than what I make in a year if I remember correctly. Here's Marie Eve trying to find a way to take it home and make a profit. I know women can fit lots of stuff in their purse but this is ridiculous. Furthermore, I have never known Marie Eve to carry a purse.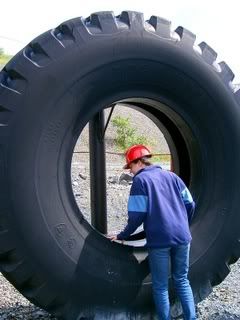 People in thetford believe things like this...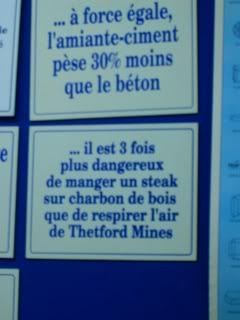 I don't know... maybe. But steak is more delicious than asbestos.
Not to be forgotten are the biowives who were upset that I didn't put this picture up in the Bahira Cristina birthday post. Always eager to accomadate my waxing ego, they call this the pimpin' picture.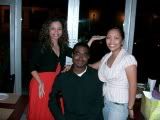 Viv and I. Viv can be so badly behaved sometimes. Can't take her anywhere!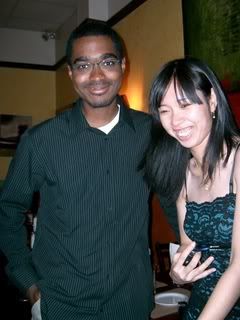 And finally, the ultimate cheese, Toron Sci Fi Con. I'll put a few of the least disturbing pictures of that experience.
Here's alpha posse at the aptly named "Cool School" where we listen to comic book artists and writers talk about their craft and we rubes learn how to become comic book artists. Note how attentive Vrej is. He realizes that this is the big break he's been waiting for. He subsequently asked Michael Bendis, artist of the recent spiderman series, out on a date.
I don't know why I loved these two. I think we should all hope to be in a relationship as healthy as the one that Mario and Princess Toadstool share. Though for some reason at first Anthony thought that these were a pair of lesbians.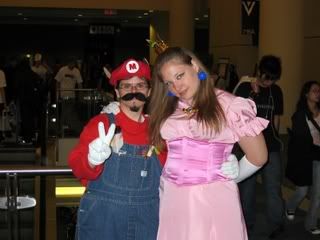 This guy was the belle of the ball in a Spock costume. Not just any Spock costume, but a Mirror Universe Spock costume. Could he have more creed?? Doesn't he just scream, "This is the best day of my life!!!" The sad part is... It probably was.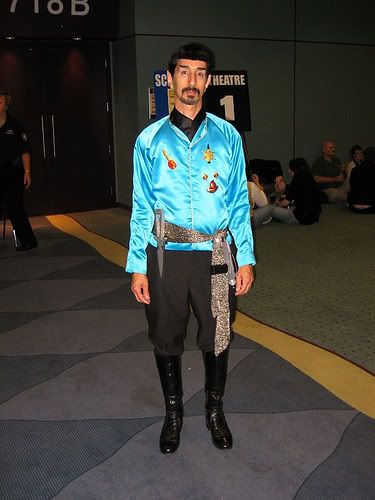 This guy was always alone for some reason and eager to pose at the drop of a dime. How shocking that he should have no friends.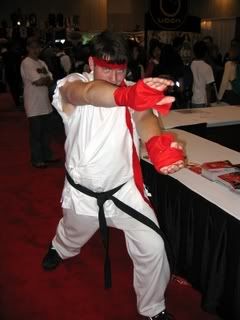 Me trying to pose like Yoda. How shocking that I should have any friends.
Star Wars Posse. Nice costumes. The plasteel armour on Obi Wan was a nice choice.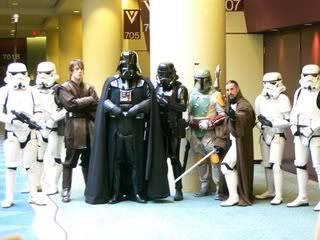 An interesting Meal in the hotel Lobby. We fiended on that swill, right out of the box like the swine we were.
Sci Fi Con was fun. I mean... It's the geekiest thing ever!!! But I haven't been in a while. And it was a chance for me to network with other artists so in a way, it was work!
Don't judge me.
Most surprising was Anthony's two lady friends. We went out to desert one night, and the next night one of them was mysteriously absent. Who wouldn't want to hang out with some studs like us?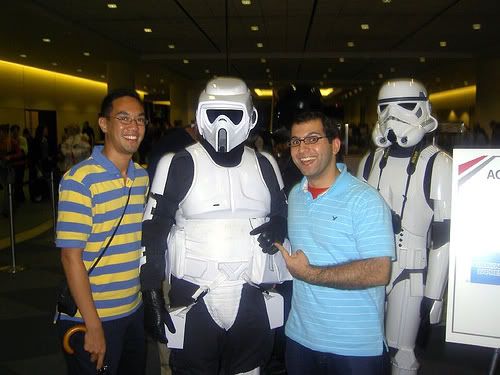 Anyhoo, that was pretty much the summer. Hope you enjoyed reading about it as much as I enjoyed being about it. And now as the weather becomes colder and colder and the work hours become longer and longer these precious memories slide through the meninges of my cerebral cortex like sand through the tiny fingers of a newborn child. I leave the warm embrace of summer to be groped by the bitter chill of autumn.
I'll spare you all the vulgar winter metaphor... Want a hint? Winter is a dude in jail!!!